past exhibition
the reanimation of fabricated nature
february. 13. 2011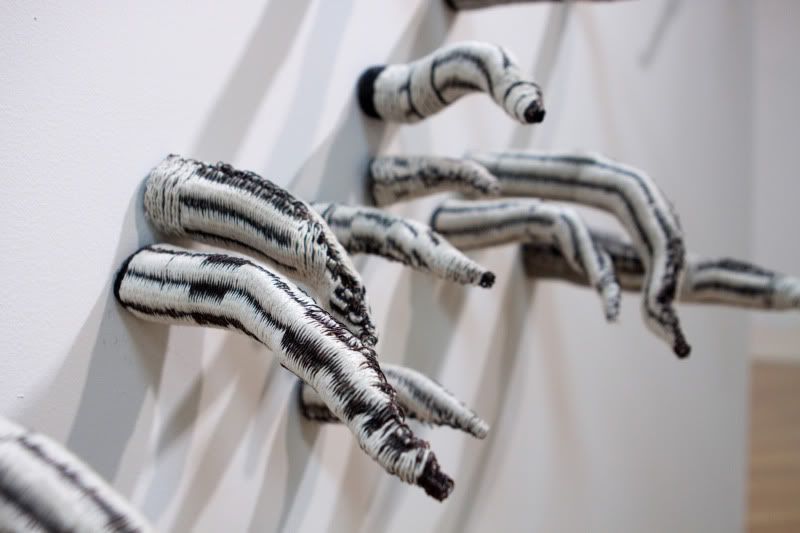 The Reanimation of Fabricated Nature
Curated by Diana-Sofia Estrada
February 13-March 2
nd
, 2011
Opening Reception: February 13, 5pm-7pm
3325 Division Street, Los Angeles, CA 90065
Open Saturdays 1-4pm or by appointment
Thinking about the H.P. Lovecraft inspired movie,
Re-animator,
and the original use of Elephant Space as a doctor's office,
The Reanimation of Fabricated Nature
looks at the reanimation and doctoring of natural objects. Five artists from across the United States (David Waddell and Laura Nicole Kante from Texas, Erin Diebboll and Einat Imber from New York City, and Los Angeles' own Lorrie Waldie) create, craft, and find objects in nature and inject new life into them. The idea of reincarnating life, intertwined with a concern for environmentalism, is definitely a focus among these artists; what varies is how they approach this topic. Unifying them is a sense of keeping the object alive, no matter what. Animated stuffed animals, log bombs, mapping forests, plastic as landscape, wool spikes, wood signs, and viral geometry come together to present the viewer with a look at how artists use their skills of alchemy to create zombie forms.
David Waddell, originally trained as a painter, is a Houston based artist who uses video to comment on our daily way of life and how we as a culture view everything in a hybrid manner. He sees today's video-making methods as very democratic, i.e. in one's basement. His work animates common disposable items such as cardboard, lotion containers, Christmas lights, various papers, hot glue, plastic toys, styrofoam, twigs, batting, ironing boards, fake flowers, straws, etc. Waddell creates work, which seeks to be fluid and beautiful while capturing the magic of childhood and inanimate objects coming to life.
Einat Imber is a New York based artist whose work looks to " the systematic order found in nature in contrast to the ambiguity of organic forms". In her work, she strives to create a new order just as convincing as the logic found in nature. This symbiotic relationship between the inherent traits of materials and their configuration is central to her work.
Erin Diebboll is a New York based artist who documents her immediate environment in extreme detail. She tries to unlearn traditional drawing pedagogy techniques. Instead of drawing things the way she sees them, she draws them the way she has seen them, the way she knows them, in their most obvious form, as drawn "definitions." In this manner, her work takes on the form of cataloging, employing the scientific method in a visual manner.
Laura Nicole Kante is a Dallas area based artist who weaves and crochets to create works which create metaphors and layered enigmatic meanings focusing on the dynamic between experience and emotional processing in a range of degrees and stages. Inspired by remodeled interiors, she uses weaving processes to create threatening environments.
Lorrie Waldie is a Los Angeles based artist who explores various natural phenomena through gravity and space. In her work, she grapples with the natural, attempting to methodically create constructions which end up being unstable. Waldie's poetic work collaborates with nature, "if a piece of art falls in the woods, would you step on it?" Waldie's work is an immediate reaction to the environment it occupies.
The Reanimation of Fabricated Nature
is a group show which looks at how these artists infuse their work with a sense of play and interaction with the immediate environment using natural and found materials. In such situations, zombie-like creatures are created...
Diana-Sofia Estrada, 2011
David Waddell
works in Houston, Texas and is included in the upcoming Texas Biennial 2011. Waddell just finished residencies at the Atlantic Center for the Arts and at Lawndale Art Center. He has shown films in Chicago, San Francisco, Washington D.C., and New York. Stop-motion animations and iPod pieces have been included in Viewfinder: New Texas Images at Fotofest, Gavin Brown Enterprise and Aurora Picture Show's Extremely Short Film Festival curated by Bill Arning.
http://hdavidwaddell.com/
Einat Imber
(born 1979, Israel) lives and works in Brooklyn, NY. Although her practice is based in an urban environment, it is closely related to nature. In 2008, a fellowship from the Joan Mitchell Foundation allowed her to spend 4 weeks as artist in residence at the Vermont Studio Center. She returned to the city with a U-haul full of driftwood. Other materials for her work are sourced from hardware stores, the 99¢ store, bait and tackle shops, the fabric district or the McMaster catalogue. Her work has been included in numerous group shows in and around New York City. Most recently she presented a room full of sculptures, drawing and photography as part of the 2010 Governors Island Art Fair. She received her BFA from the Cooper Union and lessons for a lifetime from its sculpture shop.
http://www.einatimber.com/
Erin Diebboll
was raised in rural MA and moved to New York City to pursue her undergraduate studies at Cooper Union. She now resides in Brooklyn, NY working primarily in drawing, printmaking and film. She has been granted residencies at the Vermont Studio Center and the Lower East Side Printshop and looks forward to participating in Swing Space, Lower Manhattan Cultural Council's Residency on Governor's Island this summer. Erin exhibits her work here and there throughout the U.S. and internationally.
http://www.erindiebboll.com/
Laura Nicole Kante
received her MFA in Fibers from the University of North Texas in 2010, and her BFA in Painting from the University of Houston in 2003. A native Texan, she has been exhibiting statewide since 2001. Her installations draw a parallel between human emotional processing and the fiber process of building cloth. Currently, she lives in McKinney, Texas and teaches as an Adjunct Professor.
http://lauranicolekante.com/home.html
Lorrie Waldie
is a California native. She currently lives in Pasadena. Working in a garage studio at her house, Waldie is self-motivated hibernator. Lorrie Waldie received her BFA in printmaking from the California State University Long Beach. In 2009, she received her MFA from California Institute of the Arts.
http://lorriewaldie.blogspot.com/
Diana-Sofia Estrada
is a Los Angeles based artist. Born in Houston, Texas, she received her BFA in Painting and Drawing from the University of North Texas and her MFA from the California Institute of the Arts in 2008. Estrada has exhibited her work internationally and nationally including Diaspora Vibe Gallery (Miami), Maniac Gallery (CA), Space 125 Gallery (TX), and Alice Yard Space (Trinidad). This is the third show she has curated in California and hopes to curate another show abroad in two years.
http://www.dianasofia-estrada.com
*****************************
Elephant
is a contemporary artist-run space in Glassell park, Los Angeles. Elephant houses six working studios, a central exhibition space and an outdoor event area. The studio artists collaborate to provide outside curators and artists a physical location for exhibitions, events, and gatherings.
http://elephantartspace.blogspot.com/