past exhibition
River
exhibition by artists Leila Tschopp and Konrad Smolenski
organized by Vincent Ramos
April.16. 2011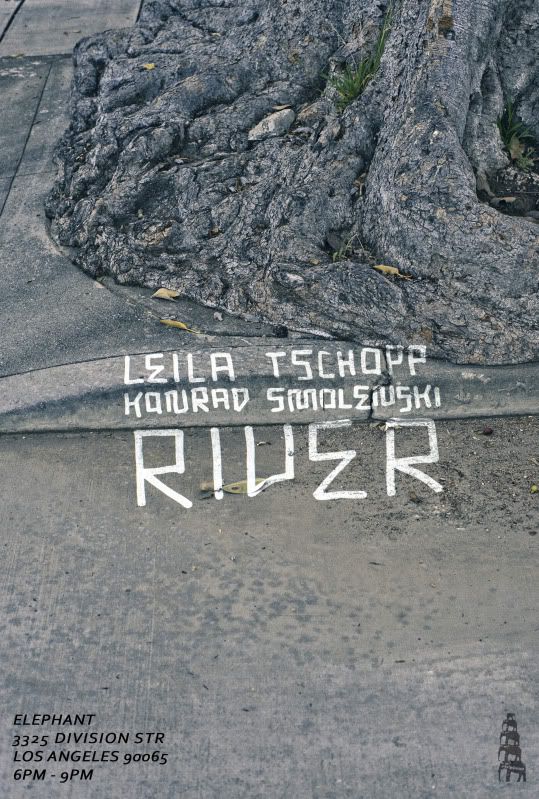 "River," a two-person exhibition by artists Leila Tschopp and Konrad Smolenski, organized by Vincent Ramos.
Opening Reception: Saturday, April 16 2011, 6pm-9pm
****************************
Leila Tschopp and Konrad Smolenski are currently in the International Artists in Residence program at 18th Street Art Center in Santa Monica. After seeing separate presentations by both artists at 18th Street, I felt that they could potentially benefit from another platform/venue, to present their work while they were still here, in the hopes of extending the dialogue to an additional group of peers and art enthusiasts who are unaware of their current presence in the city.
Less a formal show with some coherent direction or thematic approach than a rare opportunity to experience their work in our own backyard and within the (always) experimental confines of the Elephant space, "River" brings their two disparate practices together for one evening. They will both show new work that has been influenced by the geographic, architectonic, cultural, and social terrain of Los Angeles. This will be the first exhibition in the city for both artists.
Leila Tschopp (b.1978, Buenos Aires, Argentina) has had several solo exhibitions in Argentina in different national art centers and private galleries. She has been included in numerous group exhibitions in Argentina, Brazil, Bolivia, Chile and the United States. She is a recipient of the National Grant from the National Fund for the Arts and has been nominated for numerous national awards in Argentina. Her work is included in the collection of the Museum of Contemporary Art of Rosario, Argentina, in the Goethe Institute in Lisbon, Portugal, and in private collections in Argentina and abroad. In 2010, she was selected by ACC Galerie and the City of Weimar for a Residency Program in Weimar, Germany and she participated in the Metropole Alliance Program at the Goethe Institute in Lisbon, Portugal. She will be included in a three-artist exhibition at ACC Galerie, Weimar, Germany and in La Maison de l'Argentine, Paris, France later this year. She lives and works in Buenos Aires.
Konrad Smolenski (b. 1977, Kalisz, Poland) has performed at many music and performance festivals and exhibited in galleries in Poland, Germany, Austria, the United Kingdom, Hungary, France, Japan, Israel, and the United States. He has been a member of the bands: Mama, Sixa, Czykita, KOT, The New Worst Band, Kristen, and BNNT. He has participated in the actions of the art collectives Stado Prusa and the Helmut Kowalski Artistic Group and was a co-founder and member of the Penerstwo Art Group. He was also co-founder of the Start Gallery (2000-2002) and since 2003 he has been the coordinator of the so-called Pink Punk Scene (
www.pinkpunk.pl
). He is represented by Leto Gallery in Poland. For more information please visit
www.konradsmolenski.com
Organized by Vincent Ramos in conjunction with the exhibition "Outsider Art: Others From Elsewhere Doing Something Altogether Different…Sort Of" currently at 18th Street Art Center.